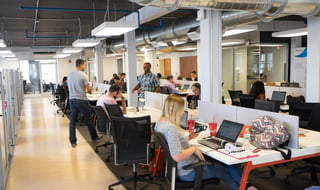 Orlando is known as the "happiest place on earth" for many visitors from around the world. Turns out, this also rings true for those who live and work here.
According to the 2016 Indeed Job Happiness Index, Orlando ranks among the top 25 large cities in the U.S. for happy workers – outpacing major metros like New York, Chicago and Philadelphia.
Coming in at No. 16, Orlando has job satisfaction scores that go beyond the office. In fact, there's a reason why Orlando has been the most visited destination in the country for three consecutive years. And that reason can be summed up with three simple words – "quality of life."
In Orlando, "quality of life" means more than balancing work schedules with family or friend time. It means that you can actually have a satisfying job and enjoy life too. Whether it's exploring pristine nature preserves or hiking trails, discovering new crafts at any of the local farmer's markets, taking in cultural attractions at the Dr. Phillips Center for the Performing Arts, or cheering on your favorite team, Orlando has it all.
Add all of these qualities to the number of companies and organizations in Orlando that are doing innovative work to change the world, and it's easy to see why the Orlando workforce is so happy.