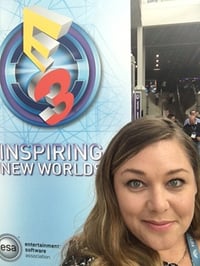 The Orlando Economic Development Commission traveled from coast to coast this month taking part in two highly attended business events - one focussed on foreign direct investment and the other on cutting-edge technology. Their goal: to highlight the Orlando region's advantages for business.
Sheena Fowler, director of business development, was in Los Angeles, Calif. for the Electronic Entertainment Expo 2016 (E3 2016), an annual gathering of hardware manufacturers and software developers/publishers from the video game industry. While there, she met with companies and media interested in Orlando's burgeoning tech scene and talent.
Irma Stenman, director of business development, was in Washington, D.C. June 19-21 for the 2016 Select USA Investment Summit. The Summit promotes foreign direct investment in the U.S. by bringing together high-level government officials, companies from all over the world, and economic development organizations from across the U.S. The Orlando EDC partnered with Enterprise Florida and eight other economic development organizations to staff the "Florida, the Future is Here" pavilion which showcased the state, Orlando, and several other Florida locations.