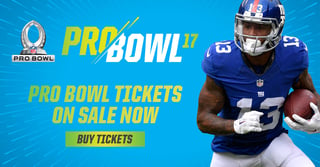 In the last decade alone, the Orlando region has attracted Major League Soccer, the National Women's Soccer League, Copa America, the International Invictus Games for Wounded Warriors, the NBA All-Star Game, College Football's ACC Championship and the U.S. Tennis Association's (USTA) National Campus. What's attracting these world-class athletics to the Orlando region? Grit, perserverance and focus from business and community leaders committed to creating an atmosphere with cutting-edge technology and top-notch faclities.
The latest sporting event headed to Orlando is the NFL Pro Bowl, moving the game from Hawaii to Orlando from 2017 - 2019.
While the game is scheduled to play on Sunday, January 29 at Camping World Stadium, the Pro Bowl is more than a matchup of the NFL's biggest stars. It's a weeklong celebration that unites and inspires the entire community through various interactive activities, events and other unique experiences. There will be youth football clinics, NFL Flag Championships, Pro Bowl player practices, sessions for coaches, the Women's World Football Games and numerous other festivities featuring the best players of the past, present and future. Everyone has the opportunity to participate in or watch these diverse events.
The City of Orlando, Orange County, Seminole County, Osceola County, Lake County, Florida Citrus Sports, Visit Orlando and Walt Disney World are all strong supporters of the NFL ProBowl.
To purchase tickets, visit www.NFL.com/probowlonsale. For more information on the week's festivities, view the event guide from Florida Citrus Sports.