In the past few weeks, more than 20 million students have returned to college campuses across the United States for the start of a new school year.
Approximately 500,000 of those students attend colleges and universities within 100 miles of Orlando. Orlando's central location and proximity to major state universities including the University of Central Florida, the University of Florida and the University of South Florida provide a rich annual supply of new talent for regional employers.Although locals are aware of the region's emerging tech sector and job opportunities for young graduates, cities such as Austin and Portland continue to dominate national rankings as the go-to cities for the young and educated. Orlando may not receive as much hype, but is attracting a growing number of people with college degrees.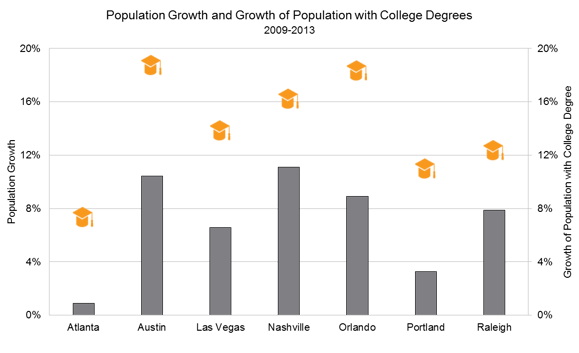 Source: U.S. Census Bureau, 2009 and 2013 ACS 1-year estimates
In the last five years, the region's population has grown by nine percent. Over the same period, the percentage of people above 25 years old with a college degree has expanded by 18 percent. The Orlando region is educating and retaining more students, and attracting people from outside the region. This growth rate is second only to Austin, whose population with a college degree grew by 19 percent.