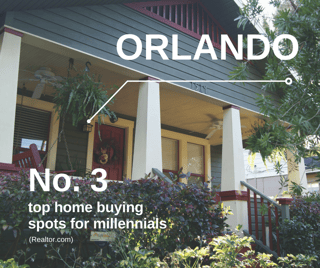 The Orlando metropolitan area ranked No. 3 on Realtor.com's list of top home buying hot spots for older millennials (25 to 34 years old). That age group represents the largest age demographic of prospective home purchasers, according to monthly surveys conducted by Realtor.com.
The Orlando metro area saw 1.18 times more Realtor.com listings page views from millennials than the national average. These "hot spots" attract the large group of home prospective buyers either due to a strong local economy, relative affordability, or both.
Orlando has been exploding beyond its internationally renowned theme parks, and millennials are paying attention. As the No. 2 fastest growing metro (Forbes), Orlando is increasingly on the radar for millennial home buyers considering where to put down roots.