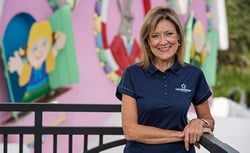 Leadership Orlando is honored to have Pamela Landwirth, president and CEO of Give Kids The World (GKTW) Village, serve as the chair of Class 97. Pamela has a long history of service to the Central Florida community, and she spoke with us about her leadership experiences and upcoming role as Class Chair.
"I am a firm believer that what binds us together is infinitely stronger than anything that pulls us apart."
Those are the words of Pamela Landwirth, president and CEO of Give Kids The World (GKTW) Village - an 84-acre, nonprofit "storybook" resort in Orlando where children with critical illnesses are treated to weeklong, cost-free vacations. Pamela Landwirth lives those words every day: inspiring a committed family of staff, volunteers and donors that make the Village possible.
Pamela joined Give Kids The World in 1992, and become CEO in 1995. Prior to that, she served in strategic roles for the Walt Disney World Company and Hard Rock Café.
Under Pamela's leadership, the Village more than doubled in size, from 32 acres to 84 acres. Eleven new venues and attractions have been added and volunteer shifts have quadrupled, from 421 to more than 1,600 per week.
And most importantly, the number of families who visit Give Kids The World Village each year has grown from 3,949 to more than 7,900. Pamela's dedication to those families is tireless, and she works each day to create for them the happiness that inspires hope.
What does it mean to you to be Chair of Leadership Orlando Class 97?
I am both honored and humbled by being asked to chair Leadership Orlando Class 97. It is an amazing opportunity, but also a tremendous responsibility to follow in the footsteps of so many incredible community leaders. Through Class 97, I am hoping to shine the light on the many challenges and initiatives that affect the most vulnerable members of our community: our children and our elderly. We have all been the former, and one day will be the latter.
What message are you looking to share with our family of communities?
I am a firm believer that what binds us together is infinitely stronger than anything that pulls us apart. That philosophy is clearly evident at the GKTW Village, among our families, our staff, and our volunteers. We should explore other areas in our community where that is also the case, then explore how we can ignite that belief throughout our community and beyond.
As a leader, who do you look for support? What continues to motivate you?
I need look no further than outside my office window for the answer to that question. The children and families we serve; children facing unimaginable challenges having the times of their lives; witnessing first hand that hope truly is the most precious gift you can give to another human being.
What was the top lesson you learned or what lesson can other communities learn from Leadership Orlando?
Leadership Orlando underscored the belief in the Margaret Mead quote: "Never doubt that a small group of thoughtful, committed citizens can change the world; indeed, it's the only thing that ever has." I was blessed to be part of Leadership Orlando when it was a requirement to take on a community service project. I was honored to chair the initiative, and through a golf tournament, we raised the funds to create the Children's Advocacy Center in the Howard Phillips Center for Children & Families.
Join Pamela Landwirth to learn about our region's global philanthropic landscape and participate in conversations that empower our region's leaders for the future.
Read the full schedule and enroll in Class 97 today. The deadline to enroll is Friday, February 15, 2019.