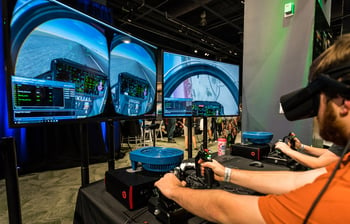 Many major technology conferences are coming up in Orlando including OrlandoiX, Florida Simulation Summit, Indie Galactic Space Jam, Innovation Academy and Innovate Orlando. These conferences bring the Orlando technology and business communities together to exchange ideas, build awareness of Orlando's diverse industries and inspire future innovation.
OrlandoiX, held August 17-20 at Full Sail University, is the Southeast's largest gathering of creators in virtual reality, augmented reality, video games, and digital entertainment. OrlandoiX brings together creators, investors, influential brands and tech enthusiasts for four days of industry leading keynotes, speaker presentations, interactive exhibits, gameplay, and networking. This year, OrlandoiX keynote speakers share a significant amount of involvement in AR/VR, feature films and venture capital. Keynote speakers for OrlandoiX include Cordy Rierson, director of Microsoft's Mixed Reality Experiences, Ryan Wang, co-founder and general partner of Silicon Valley-based venture capital firm Outpost Capital, and Brian Cavallaro, Emmy award-winning director and current chief creative officer of MANDT VR. Register for OrlandoiX here.
This year's Florida Simulation Summit on September 7 will highlight advancements in virtual and augmented reality within the transportation and automotive industry, the architecture and engineering sectors, and the medical robotics and simulation sectors. In addition to sharing industry insights on cutting-edge virtual and augmented applications, the goal of the Summit is to raise awareness about the simulation industry's vast impact on the broader region and economy. The keynote speaker is Elizabeth Baron, Ford Motor Co.'s renowned Virtual Reality and Advanced Technical Specialist. Ms. Baron manages Ford's Virtual Reality Center, which provides immersive virtual reality systems used for design and product development. As part of the Digital Innovation Group at Ford, Ms. Baron's goal is to address the unique challenges of automotive design and engineering in the digital age. Other speakers include experts from Luminar Technologies, Inc. (autonomous vehicles), the I-4 Ultimate Improvement Project, Walt Disney World Resorts, PCL Construction, Nemours Children's Hospital and the University of Florida. Register for the 2017 Florida Simulation Summit here.
Indie Galactic Space Jam returns for the fourth year in a row the weekend of September 29 – October 1. Indie Galactic Space Jam is a collaborative game development event that works closely with the space industry including its largest sponsor, Space Florida. In this weekend "Jam", developers and non-developers alike join to pitch an idea, form teams and build a space-inspired game, all in 48 hours. The Jam will also include a "night of space and gaming talks" on Saturday combined with science-based standup comedy. Inspired during Indie Galactic Space Jam last year, the game spaceBOUND has already exceeded its Kickstarter fund pledge and is currently in the process of being launched on Windows Games. Register for the 2017 Indie Galactic Space Jam here.
Formerly known as Orlando Tech Week, Innovate Orlando is a week of community-generated programming that includes speakers, workshops, tours, meetups, parties and more. This year, Innovate Orlando will feature two tours of innovative technology communities including an inside look at the BRIDG (Bridging the Innovation Development Gap) consortium in Osceola County and the Space Coast. The week will also include Innovation Academy, which will kick of the week on Friday, Oct. 6, as well as Florida PyCon, BarCamp Orlando, and Digital Orlando. For more information on Innovate Orlando, contact diane@orlandotech.org.
With so many collaborations and discussions on topics like virtual reality, the future of transportation and the region's flourishing space industry, great strides are sure to made towards technology innovation in Orlando.
Photo credit: Tom Atkinson