Leadership Orlando, America's largest community leadership program, is currently accepting applications for class 96. With more than 40 years of proven success and more than 5,000 alumni, Leadership Orlando recruits, cultivates and engages emerging and established leaders to better serve the Central Florida region.
Leadership Orlando creates opportunities to observe, interact and learn from public, private and civic leaders across the region. Its curriculum provides more than an education on the Orlando region, it also ...
• builds both business and personal contacts;
• provides proven learning tools for business and community leaders;
• for newcomers, it is a quick and complete orientation to the community; and
• delivers high-energy learning through hands-on experiences;

Companies will benefit from a proven leadership development program as well helping to expand its scope and reach through:
• increased community exposure and awareness;
• creating opportunities to market the company; and
• developing employees and improving employee retention.

Preparing for the future of the Central Florida region is up to each of us. Now is the time to learn about the issues, participate in the difficult conversations and help in guiding our future.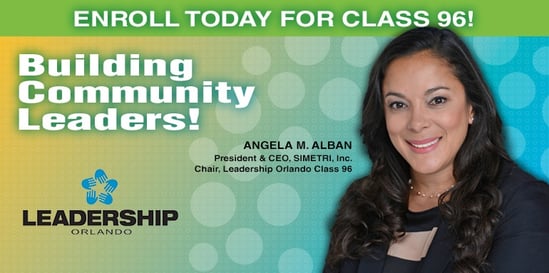 Class 96 begins on September 5, 2018, with Angela M. Alban, President & CEO of SIMETRI, Inc., serving as Class Chair. Enrollment deadline is Friday, August 10, 2018. Access the online enrollment form and the full schedule at www.LeadershipOrlando.org. If you have questions, contact Danielle Permenter at 407.835.2444 or Danielle.Permenter@orlando.org.