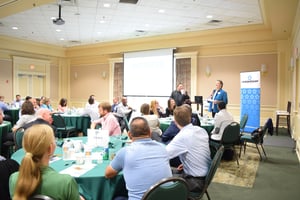 The first Leadership Orlando class to participate in the new era of the Orlando Economic Partnership, Class 94, is ready to explore the Orlando region. Over the next eight months, Class 94 will learn about the region's diverse assets and accept the challenge of becoming change agents for Orlando.
Class Chair Michael D. Armbruster, Ed.D., Orange County Public Schools' Associate Superintendent of Career and Technical Education, welcomed class members by sharing his own personal growth story and its segue into his 30-year professional career with Orange County Public Schools. He led a regional perspective roundtable discussion with the class, finding out what topics were most important to class members. This information will shape the class curriculum for the next eight months.
"Leadership Orlando Class 94 has a great group of leaders representing the seven-county region and I believe they already see the value that each one of them brings to this community and just how much that value is multiplied when they work together with their classmates well beyond the year of the program to maximize their potential impact to Central Florida," said Michael D. Armbruster, Ed.D.
Orlando Economic Partnership President & CEO Tim Giuliani presented on the recent merger between the Central Florida Partnership and the Orlando Economic Development Commission. He impressed upon the class the ultimate goal of the Partnership: to create broad-based prosperity for the region.
"Our organization is focusing on strategies to advance our mission to create jobs, expand our labor force, strengthen our advocacy for infrastructure and community resources, and create an enviable quality of life – all key attributes in our quest to attract targeted companies and grow the economy," said Tim Giuliani.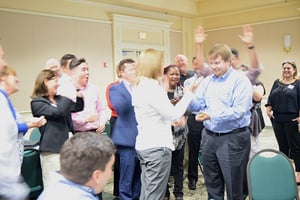 Encouraging Class 94 to be "Ready for Anything!" Bob Kodzis, Jr., Creative Guy with Flight of Ideas, Inc. and past Leadership Orlando chair, shared his personal research on challenging yourself in new and different ways. The new class learned about both themselves and their classmates by participating in creative games, including card games, a fast and furious game of Rock-Paper-Scissors, to a glow-in-the-dark, interactive real-time survey. Class members explored how they are alike and how they differ.
Stephanie Darden Bennett, President and CCO of PRISMATIC and chair of the Partnership's Social Media Engagement Committee, presented on the Obassador (Orlando ambassador) program. Follow along as Class 94 joins the Orlando social media conversation through the hashtag #ThisIsOrlando.


The Class of 94
Chair: Michael D. Armbruster, Ed.D. "Mike" from Orange County Public Schools
Stephanie A. Asendorf




Lockheed Martin Missiles & Fire Control

Kelly Astro




Valencia College

Stephen W. Belflower, AIA, LEED AP "Steve"


HuntonBrady Architects

David Brady




LEGOLAND Florida Resort

Gennifer L. Bridges




Burr & Forman LLP

Jeff Buhler




Massey Services, Inc.

Jason M. Burton




City of Orlando

Janet E. Caramello




Down Syndrome Association of Central Florida

J. Paul Carland "Paul"




Seminole State College of Florida

Royal E. Caswell, III "Trey"




McKinley Companies, LLC

Bradley Collor




CareerSource Central Florida

Teresa E. Crews




Universal Orlando Resort

Franklin E. Espinal




Veterans Health Administration

Fermin Espinoza "Espi"




Naval Air Warfare Center Training Systems Division

Bill Evans




Tsyklon, LLC

Allan J. Fluharty




Air Force Agency for Modeling & Simulation

Patricia E. Frank, MBA, CPA "Pat"


Community Coordinated Care For Children, Inc.

Jamie Giller




UCF Downtown Campus

Allisa D. Gilliean-Crump, Ph.D. "Lisa"


Rollins College

Marc Giovanni




PNC Financial Services Group

Darren S. Gray




City of Clermont

Jeffrey S. Gray "Jeff"




GrayPointe Capital

Wesley Hackett "Wes"




Fulcrum Partners

Scott C. Hall




CNL

Erik A. Halluska




WithumSmith+Brown

Matt Hammer




Baldwin Krystyn Sherman

Brian P. Hanafin




Holland & Knight LLP

Simeon Hardy




Golf Channel

Jeremy C. Harris "Jerry"




Greater Orlando Aviation Authority

Catherine Henderson "Cathy"




Orlando Lutheran Towers

John Hicks




ECS Florida, LLC

Thomas Hoffman "Tom"




Smart City

A. Noni Holmes-Kidd "Noni"




Parkway, Inc.

Laura D. Howe




PFM Financial Advisors LLC

Lisa Hultquist




Delaware North at Kennedy Space Center Visitor Complex

Dr. Ivan S. Itebejac




VA Medical Center - Orlando

Shanta Jackson




Transdev

Daniel E. Kelley "Dan"




Midflorida Credit Union

Amy A. Kennedy




Balfour Beatty Construction

Melinda L. Kieffer




Centerplate

Brenda Kincaid




Summit Broadband

Damon B. Kruid




DBK Inc.

Corinne M. LaGosh




Greenberg Traurig, P.A.

Alejandro J. Lanauze "Alex"




ZIO

Marisel B. López Ramos


SIMON - Orlando

International Premium Outlets

Melody B. Lynch
Lowndes, Drosdick,


Doster, Kantor & Reed, P.A.

Christopher J. Maddox "Jason"




Coca-Cola Beverages Florida

Kenneth B. McKellar, Jr. "Mac"




Ethos Laboratories

Paula Meads




Summit Broadband

Adam Meek




Finfrock Design-Manufacture-Construct

Barron E. Mills




Camaraderie Foundation

Lauren Morgan




Tavistock Group





Tracie Morris




Coalition for the Homeless of Central Florida

Phyllis L. Murphy




Herzing University

Michele T. Napier




Orlando Health

Denise M. Nicholson, Ph.D.




Soar Technology, Inc.

Louis H. Nimkoff "Lou"




Orlando Regional REALTOR Association

Jenise Osani




OUC - The Reliable One

Taylor C. Pancake




Foley & Lardner LLP

Gabriel D. Park "Gabe"




Florida Citrus Sports

Elizabeth A. Paul




OUC – The Reliable One

Michael V. Perry "Mike"




CenturyLink

Luis F. Pinzon




CONDOR Construction Corp.

Mark A. Reed, Sr.




Give Kids The World

Tracey Robilotto




Veterans Health Administration

Debbie M. Rodriguez




Competitive Edge Partners




& Consulting, LLC

Ashley Ross




Florida Polytechnic University

John V. Russell




Mainframe Real Estate

Tracy Schrey




Reedy Creek Improvement District

Nikee J. Schurig




BDO USA, LLP

Adrianna M. Sekula




Walt Disney Parks & Resorts

Kauren Sidhu




The Mall at Millenia

Jaime St. John




Clear Channel Outdoor

Dr. Sharon L. Stanke




Veterans Health Administration

Melanie Stefanowicz




School District of Osceola County

Charles Stovall




Walt Disney World Co.

Anthony K. Sudler "Tony"


Nemours

Rouselle A. Sutton, III "Bo"




GrayRobinson, P.A

Kevin T. Thomas


Dr. Phillips Center for the Performing Arts

.

Pavel Vakh




ITernative

Mabel Valdivia




Boys & Girls Clubs of America

Emily A. Walton




AppleOne

Jerry Warner




Orlando Health

Michael R. Weeman

"Mike"


Andy Frain Services

Charles D. Wilder "Chuck"




Estate Planning and




Legacy Law Center, PLC

Nina Yon, MNM




United Against Poverty Orlando
The next Leadership Orlando Class 95 will begin in March 2018, with Reginald B. Riley, Ph.D., Community Relations Manager, Orlando Health, serving as Class Chair. The online enrollment form and full schedule is available at www.LeadershipOrlando.org. Contact Danielle Permenter with any questions at 407.835.2444, or via email at danielle.permenter@orlando.org. Enroll now!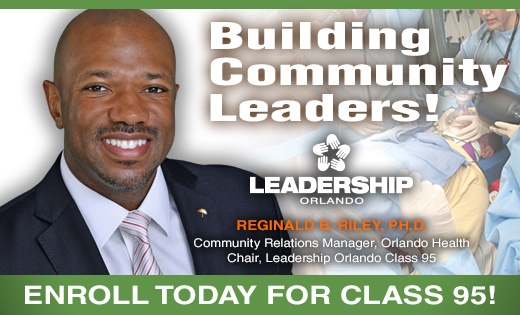 About Leadership Orlando
Developing regional leaders is important to the future success of the Central Florida Region. That is why regional leadership is a primary line of business for the Orlando Economic Partnership. With proven success since 1975, Leadership Orlando, America's largest community leadership program, continues to recruit, cultivate and encourage emerging and established leaders to better serve the Central Florida Region.
Click here to learn more about Leadership Orlando.
Click here for a listing of the 2017-2018 Leadership Team.