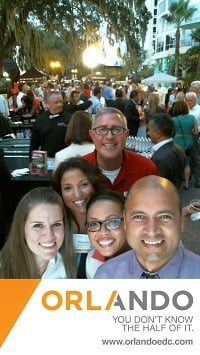 The Orlando EDC welcomed the largest crowd ever to its annual BBQ on the Boulevard with more than 1,000 registered attendees. The event, which blocks off Central Boulevard in front of Lake Eola, is one of the EDC's signature events and is now in its 26th year.
From networking to great BBQ and the debut of the first ever Tech Tent, Orlando's business and community leaders look forward to the fun filled evening every November.
This year, the BBQ on the Boulevard featured a number of new and exciting elements such as the Tech Tent, photo booths and free giveaways. The Tech Tent showcased the recent exponential growth of Orlando's tech scene with an area devoted solely to several local tech companies. Made possible by the Florida High Tech Corridor in partnership with the Orlando Tech Association, the Tech Tent featured innovative technologies and devices that are made in Orlando by companies from all over the region. Attendees were able to meet the innovators behind companies like FRESHeTECH, Limbitless Solutions, TROBO, Electron Machine Corporation and Photon-X and get an up-close look at their products.
Attendees also snapped photos with new Monster Media kiosks that allowed them to share their selfies directly on social media. Photos from the BBQ on the Boulevard captured highlights from the event.