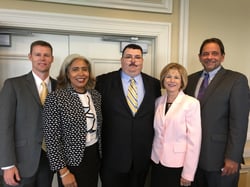 The Orlando Economic Development Commission proudly sponsored the June luncheon of NAIOP Commercial Real Estate Development Association, a group that offers networking opportunities, educational programs, as well as research on trends and innovations to the commercial real estate industry.
The focus of the luncheon was Lake County's strength as a business location. Orlando EDC Vice-Chair Robert Utsey of Skanska provided the introduction to Lake County Director of Economic Deveopment Adam Sumner. Sumner gave a comprehesive overview of Lake County's assests and highlighted the community's advanced manufacturing, life sciences and healthcare industries as well as its aviation, aerospace & defense industry.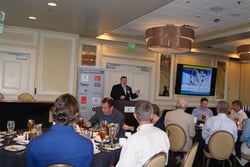 With seven percent of its workforce employed in the manufacturing sector, Lake County is a hub for companies like CaptiveAire, Senninger and Dura-Stress. It also includes strategic cooridors - 470 Commerce Center, Wellness Way and Ford Park - which are all located near major roadways and highways like the Florida Turnpike and U.S. 27.
More than 18,000 people are employed in life sciences and healthcare in Lake County which is also home to the National Training Center where advanced and elite athletes train.
The city of Tavares, known as America's Seaplace City, is a magnet for aviation and innovative companies like Skybolt and Spencer Fabrications, Inc.
These assets, and more, make Lake County and great place for business.