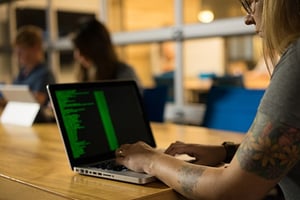 Picture the typical tech entrepreneur. Did you picture a woman? If not, it may be time to change your perception.
Women make up 30 percent of the tech industry workforce, based on diversity reports published by 11 of the world's largest tech companies last year. A strong number, but when you take a look at the top females in leadership or technical roles, it's significantly lower in positions of influence toward the company's product development or strategic direction.
Without diversity on the leading edges of tech and innovation how can we expect to progress forward?
In Orlando, female tech entrepreneurs are leading the way. In fact Orlando's emerging tech scene is now home to one of the largest tech meetup groups in the country, and for every tech company you'll find a women either in a leadership position or as a founding member. Orlando's tech scene encourages women in tech positions with resources like WeVenture and Women & Minorities in Tech.
Meet some of the women who are molding Orlando's tech scene:
SUNEERA MADHANI, FATTMERCHANT
Suneera Madhani is definitely making waves in the emerging tech scene. The founder and CEO of Fattmerchant is changing the FinTech landscape with her company, a subscription-based payment processor that offers unlimited credit card processing without markups or contracts. Suneera got the idea while working as a regional manager for a Houston-based credit-card merchant company and saw the need to make a big change in the industry
KAY STANNEY, DESIGN INTERACTIVE
For nearly two decades, Dr. Kay Stanney has been making her mark in the world capital of modeling, simulation and training (MS&T) – Orlando. As founder and president, Dr. Stanney launched Design Interactive Inc., to focus on the human interactive aspect of simulated training. Her company has a long record of success in delivering performance enhancing training solutions for all levels of government, military and commercial applications. Dr. Stanney has dedicated her expertise to furthering the research and development of human systems and continues to push technological boundaries.
DONNA MACKENZIE, CANVS, STARTER STUDIO AND FIRESPRING FUND
Donna Mackenzie is a seasoned finance veteran for tech and startup companies worldwide. Serving as Executive Director for Canvs, Starter Studio and FireSpring Fund, Donna helps mentor and find funding for tech startup companies.
Donna launched Orlando's first evergreen seed fund, FireSpring, raising $1 million, which will better support Orlando's growing tech startup community.
ORLANDO RESOURCES FOR WOMEN IN TECH
Orlando is abundant with resources for tech startups and entrepreneurs. Here are two specifically for women.
WeVenture powered by the Florida Institute of Technology, is a non-profit organization funded in part through a cooperative agreement with the U.S. Small Business Administration. The organization offers targeted, highly-effective training to start-ups, emerging business and second-stage growth-oriented companies.
Women & Minorities in Tech, is a monthly meetup that hosts tech and digital media professionals from Orlando and its surrounding regions. Attendees include tech business owners, software developers, angel and venture capital firms, marketers and digital media enthusiasts. The group serves as a forum for collaboration, networking, and education and to develop mentorship within women and minorities in technology-related fields.