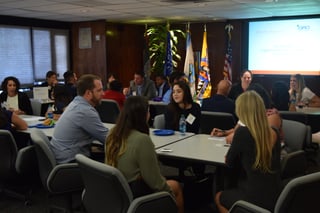 A new Orlando Economic Partnership program is attracting young talent and helping them build connections while providing resources and networking opportunities for interns and new hires. Started by the Partnership's Central Florida Young Professional Advisory Council (YPAC), iGRO aims to attract, cultivate and retain talent in the Orlando region. The two-month program, taking place during June and July, showcases Central Florida while offering support through mentorship and events.
iGRO kicked off on Thursday, June 8 with more than 20 interns for a program orientation and reception. Among the group was Florida State University student and Orlando native Hannah Akil, who is currently interning in marketing with the Orlando Economic Partnership.
"The ability to spend time with up-and-coming business leaders and learn about why they found this to be a location for them to grow in their careers is invaluable," said Akil. "I'm hoping the connections I make will open doors for me in the future."
YPAC will host events throughout the summer for iGRO participants to engage, immerse and highlight all that Orlando has to offer. The first event was a tailgate before the June 17 MLS Orlando City Soccer game which offered the opportunity to experience one of the region's exceptional professional sports and entertainment options. In July, iGRO members will meet with Ben Hoyer, founder of CREDO, a unique not-for-profit that uses proceeds from selling coffee to fund a local sustainability project.
For more information on iGRO or YPAC, please contact Danielle Permenter at 407.835.2444 or Danielle.Permenter@orlando.org.