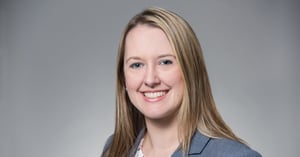 The Orlando Economic Partnership hired a new Senior Director of Business Development, Heather Shubirg, who specializes in competitiveness issues and local and state incentives. Heather is a veteran economic development professional who previously served as Vice President of Business Development for Enterprise Florida.
Heather's work at Enterprise Florida involved identifying programs and locations to help attract and retain companies in Florida. She assisted in identifying state competitiveness issues while also overseeing development of competitive project proposal responses. Heather worked on new-to-market expansion projects including Blue Origin with 330 new jobs and a $200 million capital investment and Northrop Grumman's expansion of 1,800 jobs and a $500 million investment.
Heather received both her bachelor's and master's degrees in Economics from the University of Central Florida. Heather published her master's thesis in the Journal of Environment Economics and is certified in Basic Economic Development as well as Business Recruitment and Retention by the International Economic Development Council.
The Partnership is excited to welcome Heather to the Business Development team, initially focusing on the targeted recruitment strategy for advanced manufacturing.
Reach out to Heather and welcome her to the team here.