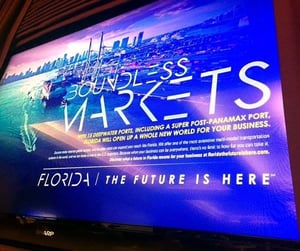 Enterprise Florida (EFI), the principal economic development organization for the state, announced the launch of a new branding initiative, "Florida – The Future is Here," which targets national and international business decision makers, site consultants and existing Florida business leaders and residents.

The Orlando EDC collaborated with EFI on the campaign providing research and resources. "The result is a seamless campaign that ties in well with the Orlando business brand, "Orlando. You don't know the half of it." said Rick Weddle, EDC president and CEO. "Both campaigns are built around strong imagery and messaging that compels business leaders interested in starting, growing or relocating their businesses to take a serious look at all we have to offer as a region and state."

Reflecting Florida's strength as a home for business, "Florida – The Future is Here" encourages people to see the state in a new and more realistic way through stories and imagery that debunk preconceived views. Florida is optimistic, innovative, original and imaginative with world-class infrastructure, global access and a highly educated workforce. This reinforces Florida as a place for growth and inspiration, demonstrating that the future is now and the future is in Florida.

"Florida is the best state in the nation to do business," said Bill Johnson, Florida Secretary of Commerce and president & CEO of EFI. "The state has a great business story and this campaign will allow us to tell that story in a way Florida never has. We are excited to share the state's competitive advantages and let business leaders and decision makers around the world know that the future of business is in Florida."

The "Florida - The Future is Here" branding effort was developed by Jacksonville-based St. John & Partners and will be introduced to audiences in state, nationally and internationally through an omni-channel marketing and public relations platform. The $10 million advertising campaign is set to run in national and international print, online, television and radio outlets.