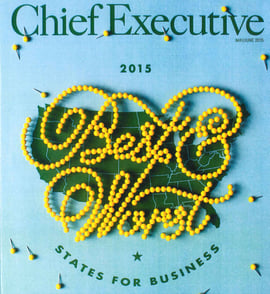 Florida ranked No. 2 for the fourth consecutive year in Chief Executive magazine's annual survey of CEOs on their views of the best and worst states for business.
More than 500 CEOs were asked to rate all 50 states on the following categories: taxes and regulations; quality of the workforce; and the quality of life which includes education, cost of living, affordable housing, social amenities and crime rates.
The magazine highlighted Florida's business-friendly climate, world-class infrastructure and tax credits for research and development. In addition, the state's industrial growth contributed to a diversified economy and ultimately the high ranking for Florida.
Overall the more successful states were found to have business-related tax-cuts and lower taxes on investments and business activities. According to Chief Executive magazine, the results of its 11th annual survey clearly show that CEOs favor states that foster growth through progressive business development programs, low taxes and a quality living environment.
To see the full rankings, click here.