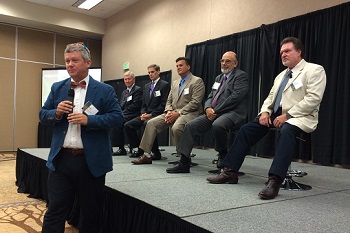 In June, we told you about a state-of-the-art research center focused on the next generation of universal smart sensors. As mentioned, the center's goal was to recruit companies to create the world's first industry-led smart sensor consortium.
At our Quarterly Investor Update held at Osceola Heritage Park last week, leaders from Osceola County, University of Central Florida and the Orlando Economic Development Commission announced the creation of the International Consortium for Advanced Manufacturing Research (ICAMR) with a panel discussion that also included GrayRobinson, P.A. and Lockheed Martin.
The consortium is already hard at work recruiting companies from around the world to develop and manufacture the next generation of universal smart sensors for a variety of industries - from agriculture and aerospace to medical and defense - and will provide Florida with an unmatched global competitive advantage in advanced manufacturing.
Orlando EDC Chair Scott Faris praised local leaders and UCF researchers for their multi-year dedication to the project.
"This technology will take us into the future," said Osceola County Commission Chairman Fred Hawkins, Jr., whose county pledged $61 million to establish a partnership with UCF and the Florida High Tech Corridor Council to create the center.
By next year, industry leaders expect the international smart sensor market to be at $7.8 billion and could reach $1.9 trillion by 2020.
"We're going to be the leader in this technology space in the world, thanks to this project," said Charlie Gray from GrayRobinson, P.A.
Calling the project "game changing," Jeff Pridmore of Lockheed Martin said iCAMR and its research center will allow for more companies in the region to become involved in advanced manufacturing, reducing barriers to entry. "There has been a hole in this region, and this consortium will help fill that gap," he said.
Based on similar technology and incubation consortia in other U.S. cities, local leaders expect iCAMR could help create 20,000 high-tech jobs in the next decade across the region.
To help fund start-up operations costs, the state recently awarded the consortium a $1.9 million Quick Action Closing Fund, while the consortium continues raising additional money for research and development, as well as recruiting industry partners.