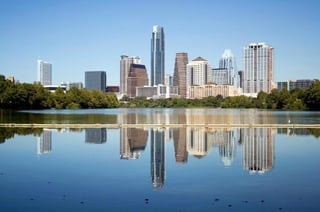 The Orlando Economic Partnership led its first ever mission to Austin, Texas June 12-14, 2017. Dave Porter and Sheena Fowler of the Orlando Economic Partnership business development team traveled with Dan Holladay, executive director of Operations and Technology Programs at BRIDG (Bridging the Innovation Development Gap) and Shipley Hall, senior vice president and managing director of Cousins Properties Inc., to target companies in high growing industries, specifically in the technology sector.
"The Orlando Economic Partnership and BRIDG team visit to Austin-based companies proved to be an extremely productive set of meetings. The Orlando region team met with top executives from a number of high profile technology industry leaders. In all cases, we walked away from the meetings with interest and support towards further investigating the opportunities to expand their business operations in the Central Florida area," said Holladay.
While in Austin, the team met with seven companies.
"Orlando is increasingly on the location short list for growing tech companies. It is more critical than ever for the Partnership to engage with these companies and ensure that they are aware of everything that Orlando has to offer as a business destination that includes a skilled and plentiful workforce, top-notch infrastructure and a world-class airport," said Porter.
The Orlando Economic Partnership leads targeted missions to cities around the world in order to aggressively increase the amount of high wage job opportunities in the Orlando region. Learn more about the services that our business development team offers here.