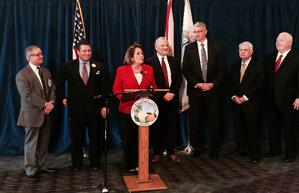 The Orlando Economic Development Commission (Orlando EDC) officially launched a regional business branding campaign designed to put Orlando in the consideration set as a place for businesses to expand or locate. The campaign – "Orlando. You don't know the half of it" – launched during the 2015 Orange County Economic Summit hosted by Mayor Teresa Jacobs.
"Orlando. You don't know the half of it" will shine new light on its robust and innovative business community, but will also highlight the wealth of activities and lifestyle amenities Orlando has to offer. While the campaign, which will include paid and in-kind, TV and digital advertising, a new website and more, also builds on Orlando's reputation as a world-class tourism destination, its true aim is to showcase all of the region's benefits. The anticipated economic impact over the next five years includes 17 percent more jobs; $600 million in additional income; $1 billion in new gross regional product and $2.2 billion more in sales.
"Orlando is well known, deservedly so, as the world leader in tourism. Although it also leads in other industries, such as simulation technology, it doesn't receive the recognition as an outstanding hub for business," said Rick Weddle, president and CEO of the Orlando EDC. "This campaign will demonstrate that in addition to our reputation as a world-class tourist destination, Orlando is also a great place to do business."
The branding committee is helmed by Ken Potrock, senior vice president and general manager of Disney Vacation Club and Adventures by Disney. Orlando advertising agency Anson-Stoner developed the creative campaign.
The campaign has been made possible through the generous contributions of public and private partners which include our investors, local governments, and in-kind supporters. See the full list here.