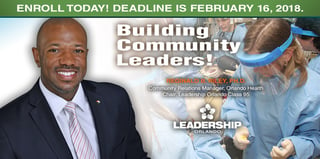 With forty years of proven success and over 5,000 alumni, Leadership Orlando, America's largest Community Leadership Program, continues to recruit, cultivate and engage emerging and established leaders, to better serve the Central Florida Region.
Take a look at who attends Leadership Orlando: Mid to upper level managers and business owners from all sectors of our community who want to make an impact on our future. Leadership Orlando provides an opportunity to step outside one's traditional circle of influence, build relationships with other business leaders, and broaden your reach.
Our curriculum provides more than an education about what's important to our region through:
Building both business and personal contacts.

Providing proven learning tools for business and community leaders.

Delivering high-energy learning through hands-on experiences.
All sessions are efficiently organized and professionally presented. And for newcomers to the Orlando region, it is a quick and complete orientation to the community.
Your company will benefit as well from a proven leadership development program that helps expand your organization's scope and reach through:
Increasing your community exposure and awareness.

Creating opportunities to market your company.

Developing employees and improving employee retention.
If you have been looking for the right time to participate in Leadership Orlando, or know someone who would be interested, now is the perfect time enroll. Preparing for the future of our region is up to each of us. Join Class 95 to learn about the issues, participate in crucial conversations and help guide our region's future.
Class 95 begins on March 27, 2018, with Reginald B. Riley, Ph.D., Community Relations Manager, Orlando Health, serving as Class Chair. The online enrollment form and the full schedule may be accessed at www.LeadershipOrlando.org. Should you have questions, contact Danielle Permenter at 407.835.2444 or Danielle.Permenter@orlando.org.
Click here to learn more about Leadership Orlando.
Click here for a listing of the 2017 Leadership Team.