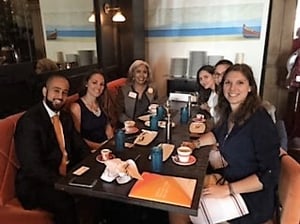 The Orlando EDC traveled with Orange County government to Montreal, Canada on a business development mission August 8-10. The EDC's Irma Stenman, director of business development, and Orange County's Carol Palacio, economic development coordinator, met with seven companies during the two-day trip which resulted in three business leads. In these meetings, companies were briefed on the many benefits to doing business in Orlando, including the quality and depth of workforce, the cost of doing business and the current industry trends in the region.
The Montreal market was specifically targeted because of its similarity to the Orlando market, with a strong industry presence in aviation and defense, IT and game development.
A key component of the EDC's strategy to attract foreign direct investment (FDI) is the proactive outreach in international markets. These visits create valuable relationships for the EDC, which ultimately paves the way for future business opportunities.
Read more about a previous business development mission here.