Orange County Mayor Teresa Jacobs and the Orlando EDC traveled to The Netherlands and Germany in late September to meet with companies from three of the EDC's five targeted industries; Innovative Technologies; Aviation, Aerospace & Defense; and Advanced Manufacturing.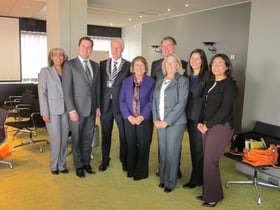 The group, which included representatives from Orange County's Office of Economic, Trade & Tourism Development, the University of Central Florida and Orlando International Airport, spoke with seven companies during the week-long mission. The goal was to encourage Dutch and German companies to consider expanding or locating in the region.
The region's business brand "Orlando. You don't know the half of it." resonated with executives who were surprised to learn Orlando is an innovative, flourishing city with other important industries outside of the hospitality and leisure industry known around the world.The EDC plans to market Orlando in various markets throughout the U.S. and abroad this year through a series of missions, events and tradeshows.