This week, Orlando Economic Development Commission President and CEO Rick Weddle represented Orlando at the 332nd Annual International Association of Science Parks and Areas of Innovation (IASP) Conference in Beijing, China. More than 500 delegates from 50 countries participated in the event held at the Zhongguancun Science Park, one of the oldest and most successful national demonstration zones and science parks in China. Z-Park, as it is known, includes 16 sub-parks and is home to nearly 20,000 high-tech enterprises in six industry clusters.
Weddle, the immediate past president of IASP, spoke during a session titled "New Commu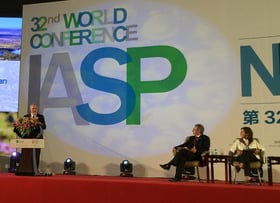 nities and Social Innovation: Living and Working Environments." The focus of his presentation was the Lake Nona Medical City and how the neo urban community concept is emerging as a trend in the areas of innovation, smart cities, and 4th generation science parks.
"It was an honor to present to this important gathering of delegates from around the world," said Weddle. "This group of professionals is innovating and enhancing opportunities in science and technology and I am proud to be a part of this global network of thought leaders."
IASP has more than 400 members from 74 countries.