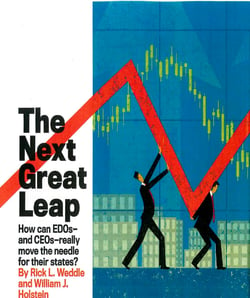 Orlando Economic Development Commission (EDC) President and CEO, Rick Weddle, teamed up with journalist and author, William J. Holstein, to co-write

"The Next Great Leap: How can EDOs – and CEOs – Really Move the Needle for their State?"

in the May/June publication of Chief Executive magazine.
The article addresses how organizations can make a difference in the success of economic development in their respective states. Together with Holstein, Weddle identified four main goals a city must achieve to reach its economic potential:
Political savvy – learning how to achieve greater independence from the political cycle
Bridging divides – overcoming the false divide between "smokestack chasers" and developers of indigenous technology-based clusters
Codifying best practices – the ingredients that work and don't work for technology clusters
Breaking down silos – the final goal: overcoming the silo effect

The article highlights key takeaways that will aid economic development organizations in achieving success in their region, proving that the Silicone Valley can be replicated with the right amount of engagement.
To read the full article click here.