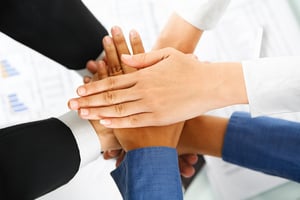 Leaders of the Orlando Economic Development Commission (EDC) and the Central Florida Partnership (CFP) have agreed to a memorandum of understanding that is the first step in the merger of their two organizations. The merger's vision is to create a more effective combined entity and capitalize on shared goals for enhancing our region's economic opportunities, business climate and quality of life.
The plans come after extensive research of best practices nationwide and detailed deliberations by a Joint Alignment Committee, led by board members from both organizations. While the committee has been active since February 2015, the two groups began informally discussing the potential advantages of combining their resources and expertise almost three years ago.
"The new organization will serve as a catalyst for forward-thinking and diverse regional growth," says Stephen Mauldin, Chairman of the CFP Board of Directors and Group President of Real Estate Investments, CNL Financial Group. "We see the merged entity bringing an innovative, integrated and more holistic approach to economic development within our thriving region – one that better anticipates the business complexities and cultural trends reshaping both our local competitive environment and the global landscape."
Before moving forward with a merger, the organizations will now solicit input from their respective public and private investors. It is the Joint Alignment Committee's hope to have the merged organization in place in early 2017.
"Today, the EDC and CFP have separate but complementary missions and objectives," says David Fuller, Chairman of the EDC Board of Directors and President of the SunTrust Foundation. "Combining the two organizations will better align the priorities of Central Florida, amplify the successful impacts of the predecessor organizations and rally our stakeholders with a common purpose: the long-term prosperity of our community."
Specifically, the new entity will bring a more unified voice and more robust resources to our region's top priorities:
Creating high-wage jobs in targeted industries

Expanding Central Florida's global reach and competitiveness

Supporting and enhancing educational/skills preparedness in the labor pool

Strengthening advocacy for improved infrastructure and community resources

And creating an enviable quality of life that is broad-based and sustainable – a key attribute and competitive differentiator in the quest to attract and retain jobs and talent.
"This new entity will be a catalyst for bolder thinking – and bolder results," Fuller says. "We want to maximize and amplify the impact of everything we do."
Once integrated, the merged entity will be governed by a volunteer Board of Directors and led by a newly recruited President/CEO with executive authority and day-to-day management responsibility. A nationwide search will be conducted for the merged organization's President/CEO. Currently, the EDC is led by Executive Vice President Holly Wiedman, who has been serving as the group's interim leader, and Jacob Stuart has been serving as the president of the CFP. Both are working in full and complete support of the recommendations of the Joint Alignment Committee, and both are excited to be part of this historic time in the life of their organizations.
It is projected that Florida's population will increase by 6 million residents by 2030, creating a need for 2 million more jobs. At the same time, the global competition for jobs is intensifying, demanding that community leaders become more innovative and focused in their approach to economic development and nurturing the best possible business climate for new and existing jobs.
"We believe a single, highly collaborative, regional economic development organization is best suited to preparing us for Florida's fast-expanding economy," Mauldin says. "This type of structure can better position Central Florida as an appealing, vibrant and culturally exciting place in which to live and grow a business."
Merging the groups is not simply a decision to create logistical efficiencies. "This is being done to strengthen our region's position in both the national competitive environment and the global marketplace to create a more strategic and effective regional economic platform," Fuller says. "We envision a new organization that is greater than the sum of its parts."
Both organizations receive a substantial part of their funding from a common group of investors. The merged organization will invite all existing members of the EDC and CFP boards to serve in roles on the new organization's board/committee structures.
"We are fortunate to have a wealth of volunteer leadership talent and expertise on the EDC and CFP boards, and look forward to continuing the mutually beneficial relationship we have with each of these valued and passionate partners," Fuller says.