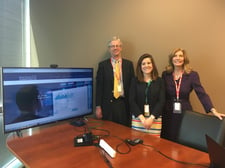 The business development team is pursuing leads following a successful mission to Washington, D.C., where the team met with defense and healthcare companies. The Partnership's Vice President of Business Development Casey Barnes worked with the business development Chair Bill Moss and Vice-Chair Roseann Harrington to explore opportunities around the metropolitan D.C. area.
The Partnership team met with seven companies, and the mission focused mainly on the aviation, aerospace and defense sector, as well as modeling, simulation and training. The mission generated two high potential business leads.
Traveling to high-cost markets is part of the Orlando Economic Partnership's aggressive recruitment strategy that targets growing companies. The Orlando team shared information and statistics about how our regional market compares to the Washington D.C. metro area with key decision makers.