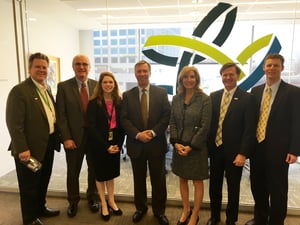 The Orlando Economic Development Commission (EDC) completed a successful strategic business development mission when a team, led by Bill Dymond, co-chair of the EDC Business Development Committee and president and managing partner of Lowndes, Drosdick, Doster, Kantor & Reed traveled to Washington, D.C. Feb. 29 - March 1. Orlando Utilities Commission Vice President Roseann Harrington, Skanska USA Building Vice President Robert Utsey, Lockheed Martin Vice President and General Manager Jon Rambeau, EDC Senior Vice President Dave Porter, and EDC Vice President Casey Barnes, met with 10 companies to educate them on Orlando's business climate. They also visited companies based in D.C. who recently established locations or expanded in Orlando.
Known as the Modeling, Simulation and Training capital of the world, Orlando is home to the simulation procurement commands for the Army and Navy and has a significant presence of the Air Force, Marines and Coast Guard (Team Orlando) and therefore shares close ties to the aviation, aerospace and defense industry in D.C. In total, more than $4 billion in annual simulation contracts flow through the Orlando region, the majority of which is awarded to local companies and subcontractors. However, D.C. differs from Orlando in that it has a high operating cost and high cost of living in comparison. While in Washington, the EDC staff highlighted some of the benefits and opportunities that come with moving to Orlando, including affordability, a talented workforce and robust talent pipeline.
Additionally, the Orlando region has five airports (including MCO and SFB) with more than 175 non-stop destinations around the world, a new commuter rail system, upcoming statewide rail system, close proximity to major ports (including the world's only quadramodal port) and strong roadways - invaluable connectivity for businesses.