Two Orlando experts highlighted the region's growing economy, real estate market, and the innovative life sciences and health care industry during the Bloomberg national radio show "Taking Stock." Bloomberg brings financial news and business information to listeners across the country and in June broadcast live from the 2015 iNSITE conference held at the Orlando Hyatt.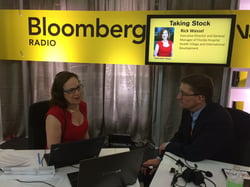 Host Kathleen Hays talked to Florida Hospital and IQ Orlando's Rick Wassel on the innovative health sciences industry and the collaborative alliances area stakeholders and leading health care companies are building in the region. You can hear the full interview here.
Wassel helped launch IQ Orlando earlier this year by teaming up with four large Central Florida partners including Florida Hospital, Ginsburg Health Sciences, Tavistock Group and the University of Central Florida (UCF) to attract, grow and retain start-up companies that focus on life sciences. IQ Orlando hopes to use its resources to attract early- to mid-stage national and international companies that focus on health care IT, general life sciences, biotechnology, medical devices and pharmaceuticals.
UCF's Dr. Sean Snaith, director of the Institute for Economic Competitiveness, told Hays Orlando's active convention business adds to the strength of the local economy. He said the Florida housing market has also recovered and there continues to be a correlation between tourism and the overall local economy, even as the region diversifies. Listen to the full interview here.