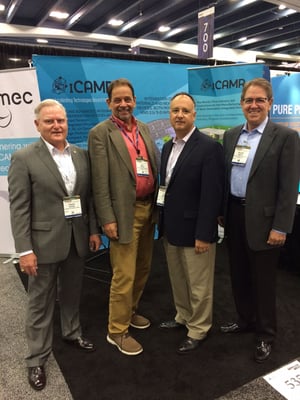 The Orlando Economic Development Commission (EDC) showcased the region's growing strength in the advanced manufacturing industry during SEMICON West, North America's largest gathering of microelectronics experts, corporations and exhibitors in San Francisco, July 12-14. During the opening session, imec, the world-renowned nanoelectronics research center based in Leuven, Belgium, announced the opening of imec Florida during its highly attended Technology Forum. imec Florida will join the International Consortium for Advanced Manufacturing Research (ICAMR) being developed in Osceola County.
"More than 400 people, who are all leading experts in the advanced semiconductor industry, attended the forum to hear more on the collaborative agreement that will set up fab facilities for developing and producing silicon solutions for a broad range of applications including sensors, photonics, and high-speed electronics," said Robert Utsey, Orlando EDC vice-chair and senior vice president of Skanska USA Building.

imec Florida will be established as a design center facilitating the collaboration between imec's headquarters and U.S.-based universities, research institutes and semiconductor and system companies.
"SEMICON WEST is our opportunity to introduce the world to the Orlando they don't know," said Dave Porter, senior vice president of business development with the Orlando EDC. "We have transformed from a tourism hot spot into a hub for high-tech innovation, and Orlando is quickly becoming the world's leader as a dominate location for smart sensor research and manufacturing."
ICAMR, currently under construction in Osceola County, will provide more than 100,000 square-feet of lab and office space to research advanced manufacturing techniques for emerging technologies and next-generation smart sensors that connect everyday devices to the Internet of Things (loT).
The Orlando region and Florida was represented at SEMICON West by representatives from Enterprise Florida, the Greater Osceola Partnership for Economic Prosperity, Osceola County, the University of Central Florida, and the Orlando EDC.