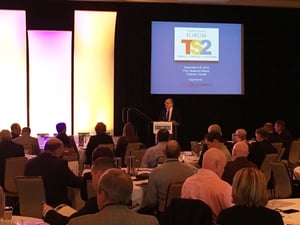 The Orlando community hosted Area Development's 20th Consultants Forum on Dec. 6-8 at the Four Seasons Resort Orlando. The forum, in Orlando for the first time, brings together many of the leading voices in site consulting for an intense program with presentations focused on the most current trends, strategy and solutions influencing corporate site selection.
Rick Weddle, EDC president and CEO, provided the forum's opening remarks and welcomed the group, who came from all over the U.S. "Because of the strength and dominance of our toursim industry, Orlando is well known but poorly understood," said Weddle. "While you are here, you'll learn that you don't know the half of it when it comes to our region." Weddle encouraged the consultants to learn more about Orlando's diverse industries that include aviation, aerospace and defense; innovative tchnologies; life sciences and healthcare; advanced manufacturing; and corporate headquarters and regional offices.
Throughout the two day conference, members of the EDC's business development team participated in forum activities and fostered relationships with this important group.
Area Development Magazine, is considered one of the leading executive magazines covering corporate site selection and relocation. Editorial coverage provides information pertinent to the factors, key issues, and criteria that affect a successful company decision on location.