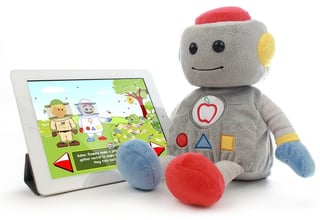 Startups out of Orlando continue to gain venture capital offers from panelists and self-made entrepreneurs on the hit TV show, "Shark Tank." TROBO and its STEM-inspired toy robots recently appeared on the show.
TROBOs are plushy robot friends wirelessly connected to your iPad or iPhone that read digital storybooks about Science, Technology, Engineering and Math (STEM). Jeremy Scheinberg and Chris Harden launched the company out of an Orlando Startup Weekend event in 2013. Following the successful launch, TROBO was accepted into the Starter Studio business accelerator program.
The tech duo and their toy robots then received a grant from the National Science Foundation and in 2014 they launched a Kickstarter campaign, raising $61,000 for 600 toy robots.
Currently based out of Canvs, a co-working space in the Church Street Exchange Building in Downtown Orlando, the Orlando tech toy company landed a $166,000 deal from investor Robert Herjavec in return for one-third of the company, contingent on a deal with Dreamworks.
Orlando has a $14 billion tech industry with a growing number of startups also coming out of incubators, co-working spaces and meetups organized by tech groups such as the Orlando Tech Association.
This rapidly emerging tech scene is now home to one of the largest tech meetup groups in the country and ranked among the nation's fastest-growing population and employment markets, ensuring that more Orlando-based startups like TROBO find success in the future.