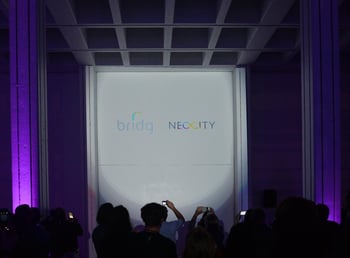 The world's first industry-led smart sensor consortium, being built in Osceola County in the Orlando region, now has a new name – BRIDG – which stands for Bridging the Innovation Development Gap. The high tech facility, scheduled to open in March of 2017, is located in what is now called NeoCity.
"We're entering a new phase of this project that will transform the local and state economy, giving us a competitive advantage over advanced, nano-scale manufacturing centers around the globe, and our new identity reflects that," said Chester Kennedy, CEO for BRIDG.
BRIDG will develop the next generation of advanced semiconductor designs for sensors, fiber optics and photonics in a 109,000 square foot facility that includes a vibration and particle free cleanroom. The project was formerly called the International Consortium for Advanced Manufacturing Research or ICAMR. The new name captures BRIDG's mission to "bridge the gap" between advanced research at Florida's universities or industry innovators and cost-competitive manufacturers of new products tied to connected devices and the Internet of Things.
Co

mmunity, industry and partner organizations and supporters were among the hundreds of attendees at the brand reveal event that also offered the first inside look of the facility. "This development is transformational for our region and the Orlando EDC is proud to be a part of helping this ambitious project become a reality," said Orlando EDC Executive Vice President Crystal Sircy.
In addition to a new name for the consortium, Osceola County renamed the 500-acre, master planned site where the consortium is headquartered from the Osceola Tech Farm to NeoCity.
Osceola County leaders say the name signals a new horizon for the region's high-tech economy, and the site will be more than a traditional research park with its community connections and surrounding natural landscape.